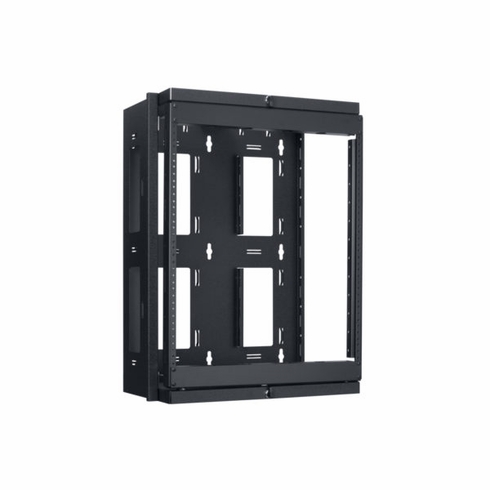 Product Description
SGR-1212: Swing Gate Rack 12U x 12?D (usable)
Open frame wall rack offers extraordinary access — the frame swings out 90 degrees from an open side, making wiring and servicing components quick and trouble-free.
SPECIFICATIONS
Rack Space:  12U
Height:  27.48 in.
Width: 20.03 in.
Depth:  13.21 in. (11.6 usable)
---
FEATURES
Heavy gauge steel construction
Front gate swings open 90 degrees (left or right orientation)
Thumb latch secures frame
Mounting holes on 16 in. centers
Abundant cable paths and tie points
One pair fixed position rails tapped 10-32
Black powder epoxy finish
Load Capacity:  150 lbs.
Two piece field assembly
---
COMPLIANCE & CERTIFICATION
EIA/TIA compliant
RoHS compliant
Certified U.S. steel
Made in Missouri, U.S.A.
---
A&E SPECIFICATIONS
The swing gate wall rack shall be Lowell Model SGR–1212 which shall measure 27.48"H x 20.03"W x 13.21"D, which shall be constructed of heavy gauge, certified U.S. steel with combination textured/semi-gloss black powder epoxy finish. It shall feature one fully open side and a swing gate that shall open 90 degrees to access mounted equipment. A thumb latch shall secure the frame closed. The rack shall provide 12 rack units of panel space and include cable paths, tie points, and one pair of fixed position mounting rails tapped 10-32. Load capacity shall be 150 lbs